Posted:
Mon Oct 26, 2009 10:40 pm
Hello,
I am the developer of the Ursa Minor Bluetooth Interface.
For analyzing what was wrong, could you please do a small test?
I uploaded a simple terminal program to my website. Its name: Terminal
You can download it from here:
http://www.ursaminor.hu/downloads_en.html
Scroll down and look the section "Terminal program for testing communication with telescope mounts".
You need the "Terminal.zip".
This program can run on Windows.
Please try to make a connection to the Merlin with this program. (Communication / Open port menu)
After the connection is established, choose the "Send(ASCII)". A dialog window appear, and you can send any command to the mount.
Try send ":a1" command, and see what kind of reply do you receive.
The reply will be shown in the main window as seen on the following image: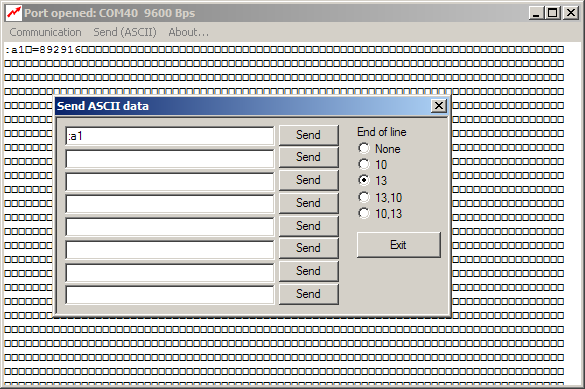 Note: Please always set the End of line to "13" as seen on image below, it is important for Merlin: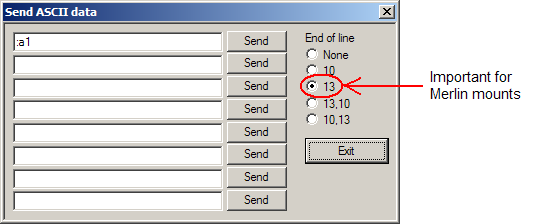 Normally you can see a response on upper left corner of the main window.
Four cases can happen:
- no response at all
- Only the echo (:a1) seen
- Only the response (=xxxxxx) seen. (x is a hexadecimal digit)
- Both the echo and the response seen.
Only the fourth case is good. Others indicates three different kind of errors.
Obviously, if the problem is apparently unsolvable, you can ask the dealer for produlct replacement.
Best regards,
Tamas